We visited fast food restaurants to test how real-life users experience ordering through their websites.
This is part two of our multi-part series on usability issues with fast food eCommerce websites. In each part, we'll highlight the usability problems (and possibly some successes) we discovered through performing guerrilla user testing(1) at popular fast food restaurant locations.
We'll also offer suggestions on improving each website for higher conversions and customer satisfaction.
Restaurants have some of the highest conversion rates in the industry(2), complex menus with lots of options, bundling, and pricing configurations. This series teaches you about fast food's successes and failures. Let's get started!
Case Study:
Burger King

In this part of our series, we're studying how users order at http://bk.com. By testing and evaluating how users navigate the site, we will discuss some of the biggest problems and show some suggestions on how we would solve each issue.

Usability Issue: Button Position
The first usability issue is the "Share Location" button, which is placed at the bottom of the homepage.
When the page is opened on a small screen, the "Share Location" button is hidden. Making matters worse, having the button located so far away from the store finding components creates confusion and makes it harder to locate.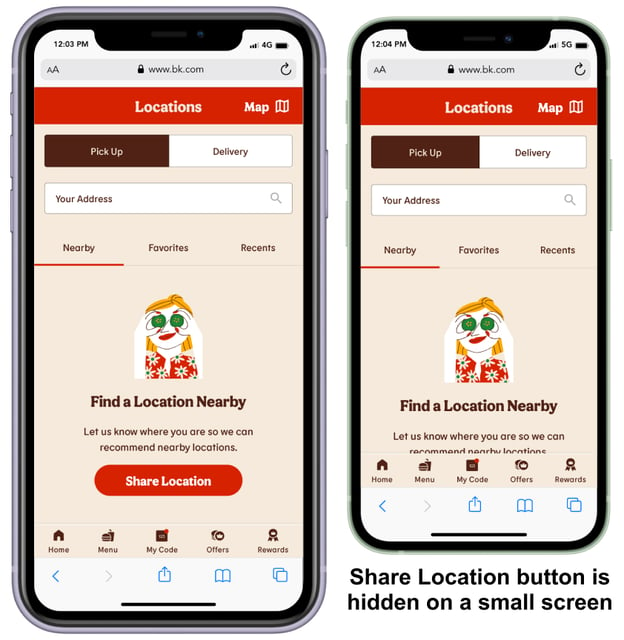 See the video of a user struggling to find the "Share Location" button.
Watch another video of the user making multiple attempts to find a location by typing.
Solution: Better Placement
Allowing users to quickly find the closest store location speeds up the ordering process and lessens site abandonment. We can find one solution on the Five Guys site, which has a component that allows users to search using their current location. When a user clicks the "Use My Location" button, the closest locations are displayed below. They also highlight the nearest location, speeding up the ordering process and raising conversions.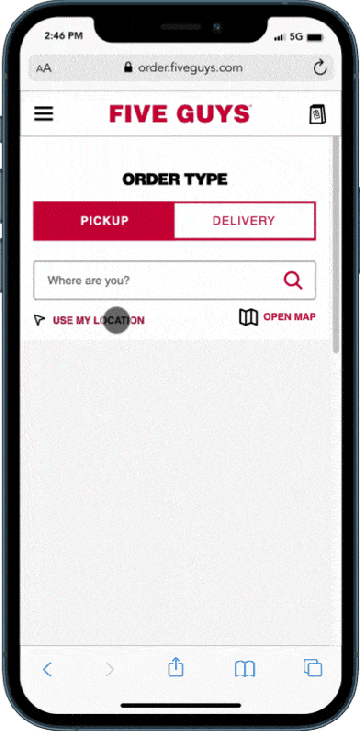 On the Burger King site, we would solve the "Use My Location" button issue by moving the "Share Location" button next to the "Your Location" text box. The principal of placing related items closer to each other is related to the Law of Proximity(3) from Gestalt psychology.
Usability Issue: Required Sign In
Another usability issue is blocking users from completing their purchases by requiring them to Sign In. Currently, Burger King forces users to Sign In with a validated email by creating an account before allowing them to pay. The Sign In multi-step process slows ordering by adding friction, leading to cart abandonment rates that often lie between 68% and 75%(4).
It takes over one minute to complete the steps required to Sign In.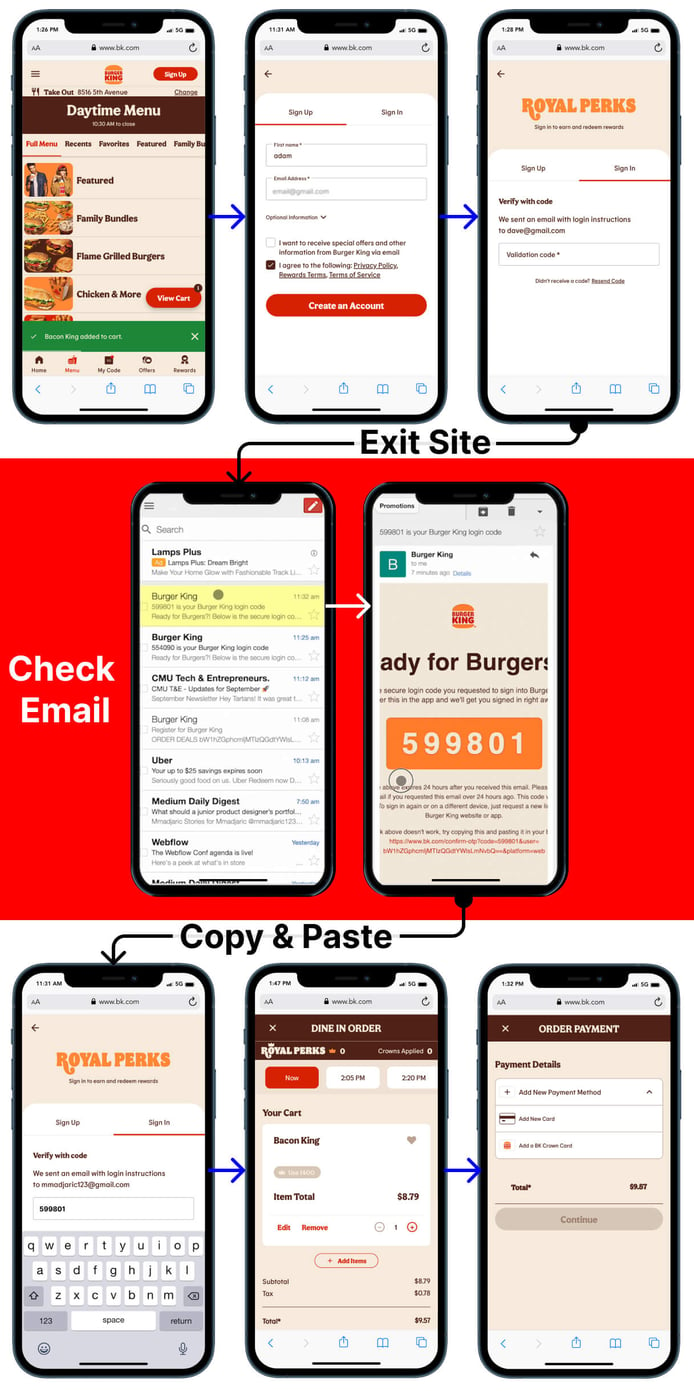 Solution: Remove Extra Steps
KFC's site shows an excellent competitive example of how to solve the issue. They remove the Sign In and registration processes, which allows users to checkout in one step.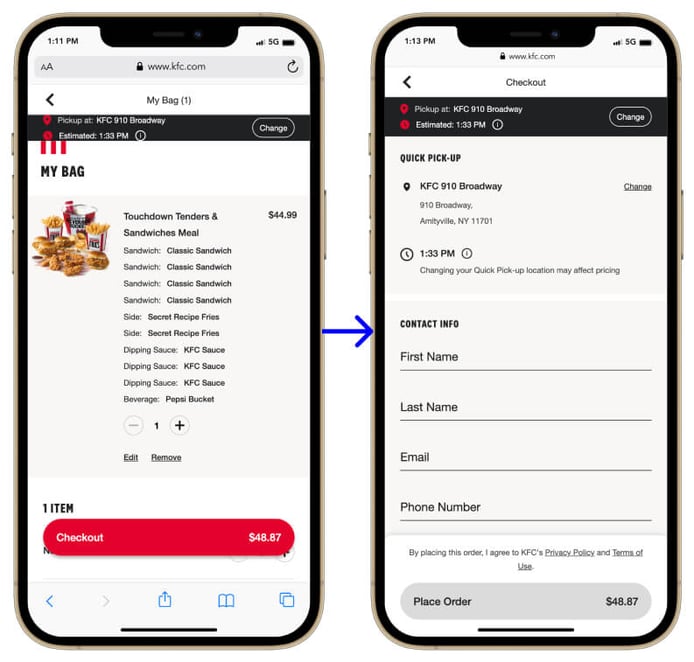 By removing the extra steps, Burger King would allow users to complete the ordering process and pay without abandoning their transactions.
Interrupting a user before they have completed ordering slows the process, which prevents a quick checkout. Registrations involve extra steps and potential problems for things going wrong. There is a direct connection between user hassle and lost sales(5)
Usability Issue:

Only Credit Cards Allowed

Users can only pay by credit card on the Burger King site. This issue creates user frustration for anyone with other payment services set up on their phone. Burger King slows the ordering process and lowers conversions by limiting payment options.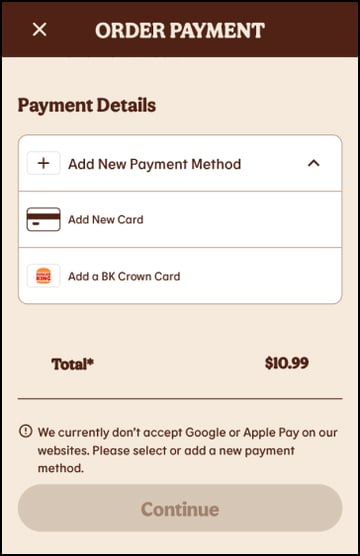 Solution: Add EasyPay
A good solution would be adding other payment options such as Google pay, Apple Pay, and PayPal. Since 2020 mobile payments have increased by 27.9% from $1.54 trillion. According to projections(6), the market will continue growing at 29.1% annually over the next seven years, eventually reaching $11.83 trillion by 2028. Limiting users' payment options, Burger King creates an opportunity for other services that users may find quicker and easier to use.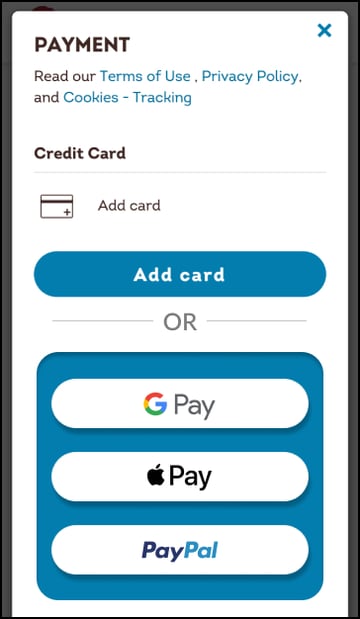 By removing these remaining obstacles from the users' ordering journey, Burger King will speed up the checkout process and create a more seamless experience. Creating a positive ordering experience(7) will give users a strong impression long after leaving the site.
🥳 Usability Success: Customization
Burger King has one excellent example of successful usability: its product customization.
By keeping the interface simple and consistent, users can process orders quickly with less confusion. This site makes complex choices straightforward by utilizing the UX Principal of Visual Hierarchy(8), labeling and grouping complex options for the user.
This area of the Burger Kings site is an excellent example of how UX design and visual-design principles(9) can improve customer satisfaction for a fast food eCommerce site.
In this video, a user quickly selects options for their order.
🤔 Usability Issue Example: Forced Options
On Chipotle, when a user selects a product, they must pick all available options or select the no option for each section. Users must scroll through a long list of possible choices. Not having default options pre-populated will slow the ordering process and lower conversions.

Conclusion
We discussed three ways that Burger King could improve its site:
Improve the placement of the "Share Location" button at the bottom of the page, which is hidden on smaller screens.

Remove the process requiring the user to Sign In before purchasing.

Accept forms of digital payments that are easy to use: Apple Pay, Google Pay, etc.
From our experience implementing comparable changes, we believe conversions would go up 4% just by making the three suggested changes. Making comprehensive, research-backed product design improvements, we have doubled conversions for similar retail clients.
Look out for our next post, where we will guerrilla test another fast food eCommerce restaurant website. We tackled similar problems in the previous post, Wendy's usability issues.

If you have questions or there are other sites that you want to see us discuss, put them in the comments section or tweet us.

---
Footnotes:
Lade Tawak: A beginner's guide to guerrilla research: Oct 18, 2019. Accessed on:Sept 11, 2022: [Online]. Available:

https://www.invisionapp.com/inside-design/a-beginners-guide-to-guerrilla-research/


Unbounce.com: conversion-benchmark-reports: Accessed on Sept 11, 2022: [Online]. Available:https://unbounce.com/conversion-benchmark-report


Law of Proximity: Accessed on

Sept 11, 2022

[Online]. Available:https://lawsofux.com/en/law-of-proximity/



Shopping Cart Abandonment Rate

: Accessed on:

Sept 11, 2022

[Online]. Available:https://www.geckoboard.com/best-practice/kpi-examples/shopping-cart-abandonment


Amy Schade: Don't Force Users to Register Before They Can Buy:

July 5, 2015:

Accessed on

Sept 11, 2022

[Online]. Available: https://www.nngroup.com/articles/optional-registration/



Keith Hodges:

August 24 2022: 22 Mobile Payment Statistics Detailing the Industry's Growth: Accessed on Sept 11, 2022 [Online] Available:https://moneytransfers.com/news/content/mobile-payment


Lexie Kane: The Peak–End Rule: How Impressions Become Memories: December 30, 2018: Accessed on Sept 11, 2022 [Online]. Available: https://www.nngroup.com/articles/peak-end-rule/


Kelley Gordon: Visual Hierarchy in UX: Definition: January 17, 2021

:Accessed on Sept 11, 2022 [Online]. Available:


https://www.nngroup.com/articles/visual-hierarchy-ux-definition/



Kelley Gordon:

5 Principles of Visual Design in UX: March 1, 2020:Accessed on July 11, 2022 [Online]. Available: https://www.nngroup.com/articles/principles-visual-design/