Psst, hey you! Are you looking for a place to grow your Angular skills by working on interesting projects with fabulous teammates?
At Bitovi we're expert developer consultants that care about our craft and care about helping our customers achieve success in their software products. We invest ourselves fully in client success and make sure we bring the development knowledge & consulting skills they need to achieve their goals.
On the Angular team at Bitovi we believe that knowledge earned is best when shared, and therefore have allocated time for subject matter research, knowledge sharing presentations, & content creation to ensure we're at the top of our game for our clients. We're not new to remote work, so we know how to maintain a fun, collaborative team culture across client projects ... and our emoji game is top-notch.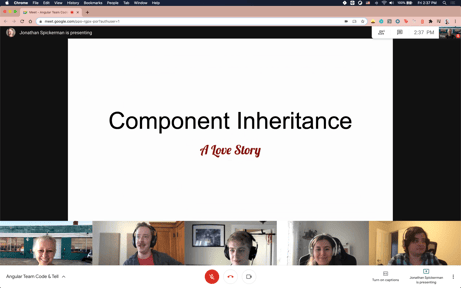 If you're looking for interesting projects with interesting problems to solve in a culture that cares about quality over quantity, education & collaboration over cowboy-coding, and solving problems that matter, we'd love to hear from you! A rising tide raises all boats, and that is the energy we bring to writing code and helping educate the clients we work with on best practices.

Cool Challenges We're Helping Clients Tackle:
AngularJS to Angular Updates
Monorepos & Micro Frontends
Adopting Reactive Programming
State Management
Implementing Modern Tooling like NX, Custom Angular Schematics
Angular, TypeScript, & RxJs Training
Building Framework-Agnostic Web Components
Codebase Audits & Tackling Performance Issues
Ionic Applications


Above all, our clients come to us for our Angular expertise. They know we're knowledgeable about modern web practices, they love that we are thought-leaders in the Angular industry, and they value that we invest ourselves in their projects success. If you'd like to continue to hone your awesome Angular skills with us, please send us your resume and a cover letter here!

- Jennifer, Director of Angular Development


---
Non-code related perks for working at Bitovi:

Competitive salary and yearly bonuses
Bi-annual company retreats to places like

Las Vegas

, New Orleans, and Amelia Island, Florida (when we're not in a pandemic)
401(k) plan with matching
4 weeks of paid vacation
Health and dental insurance
LTD and Life Insurance
Gym membership reimbursement
Paid Maternity & Paternity leave
Working from home with flexible hours