This meetup has already happened, but you can still watch the videos! Check out four presentations on DevOps-focused topics.
See all videos here or scroll down for more information on each video.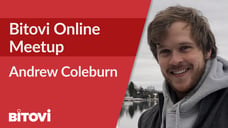 Only Doctor Who Has a Sonic Screwdriver
BitOps Simplifies Infra & App Deployments
Deploying HeyEmoji Using BitOps
Maybe You Don't Need Kubernetes
For more great discussion, join our community Slack! After you've joined, come say hello in our #introductions channel. We're excited to chat with you there and see you at our next online meetup!